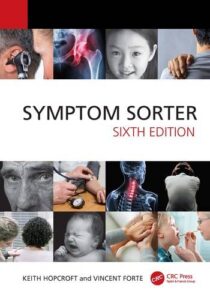 Nursing in Practice Reference is based on the best-selling book Symptom Sorter.
Nursing in Practice Reference is written by two GPs and adapted by nurses. It analyses a multitude of symptoms commonly seen in primary care and for each presents differentials, distinguishing features, possible investigations and key points. Its perspective is very much grass roots primary care, informed by the latest evidence and guidance where possible or appropriate, and designed to be relevant to nurses with a range of responsibilities including general practice nurses, advanced nurse practitioners, independent nurse prescribers, and community nurses.
Not all symptoms will be relevant to every user including those presented in children and should be determined by the scope of each individual nurse's training and scope of professional practice. This tool is for clinical guidance only and cannot give definitive diagnostic information. Appropriate referrals should be made following the nurse's own practice's protocols and employer expectations, locally agreed pathways and national guidelines.
Each symptom is analysed in a uniform, accessible way, providing:
The Overview which defines the symptom and key characteristics
Differential Diagnosis which lists the likely diagnosis, subdivided Common, Occasional and Rare
Ready Reckoner which highlights key distinguishing features of the most common diagnoses
Possible Investigations which outline those investigations most likely to assist you in making the diagnosis
Top Tips which are mostly useful hints from the authors' experience
Red Flags that highlight aspects of symptoms which suggest pathologies and there should not be missed or neglected
Nursing in Practice Reference recognises that nurses work in diverse contexts and have different levels of skills, autonomy and responsibility. However, all nurses are required to exercise professional judgement, work within their limits of competence and are accountable for their work, as set out in Nursing and Midwifery Council, The Code: professional standards of practice and behaviour for nurses, midwives and nursing associates, 2018. 
The experts behind Nursing in Practice Reference
Marilyn Eveleigh is an editorial advisor for Nursing in Practice. She is the former Head of Clinical Quality & Risk and Lead Nurse at NHS Brighton & Hove and is an independent trainer and consultant for quality and patient safety. She works as a primary care nurse in East Sussex
Dr Keith Hopcroft is the co-author of Symptom Sorter and has been Pulse's editorial advisor for more than 15 years. He is a GP in Basildon, Essex, an associate trainer and medical writer and columnist.
Dr Poppy Freeman is also a clinical advisor to Pulse and set up the Covid Toolkit on Pulse Today in 2020 to provide GPs with up-to-date guidance on all the clinical and organisational Covid updates. She is a GP in Camden.
Get in touch
If you have any questions about Nursing in Practice Reference, please contact us at [email protected].